We've made buying multiple sized bras a thing of the past!
Our amazing seamless maternity and nursing bras are designed to grow with you. So as your body and bust changes, your Mumba Bra responds with total comfort and flexibility. Meaning that you can wear it from any stage of your pregnancy right through to nursing.
We know what you're thinking… "How is that possible?" Well the Mumba Bra is made from luxuriously soft, super stretchy and supportive fabric. So that they're extremely flexible in expanding with your bump, but sturdy enough to give you support when you need it most.
One size will take most mums throughout her pregnancy. Your Mumba Bra can therefore be worn as a maternity or nursing bra.
So, what are you waiting for…come and join the Mumba Bra revolution.
Maya Seamless Bra Size Chart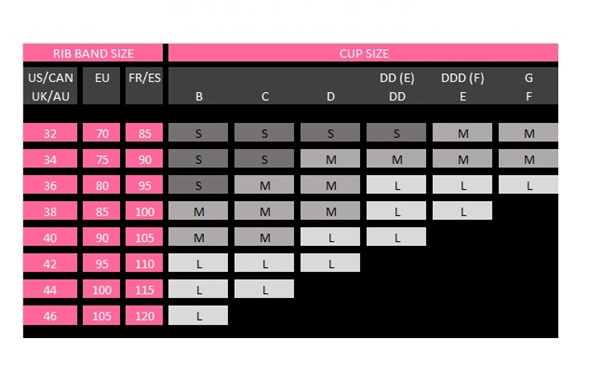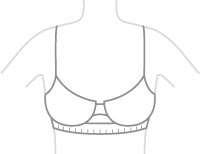 Step 1
Determine your band size (i.e. 32, 34, 36, 38, etc). To do this, measure yourself around by bringing the measuring tape around your rib cage underneath the bust line, making sure the tape measure is flat and straight across your back. Pull the tape nice and tight (remember that a bra will stretch, but a tape measure doesn't).
If you measure between two numbers for example 34.6 inches, then round off to the next whole number example 35 to get your band size.
Now refer to the chart below to determine your band size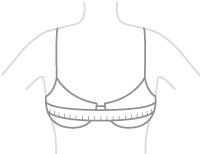 Step 2
Now find your cup size by measuring across the fullest part of your bust (this time the tape measure doesn't have to be tight). Measure your bust at its fullest part; make sure that the tape measure is even across the front and back and not twisted. Again, round off to the next whole number.
All you need to do now is to take away the rib band measurement from the cup size measurement. Each number or inch represents one letter. Refer to the table below.
For example, if your rib band is 32 inches and your cup measurement is 34 inches; 34-32 = 2, 2 equates to a B cup (1=A, 2=B, 3=C, ). So, your recommended nursing bra size is a 32B

Use your recommended size to see which Mumba Bra size you require, Small, Medium or Large. Example 32B would be a Small
TIPS AND ADVISE
Our sizing advice is a guideline. But take a look at these questions, which may help you when choosing your size.