We've made buying multiple sized bras a thing of the past!
Our amazing seamless bra uses an advance 4-way stretch fabric which allows it to adapt to your changing body. Meaning that you can wear it from any stage of your pregnancy right through to nursing.
One size will take most mums throughout her pregnancy. Your Mumba Bra can therefore be worn as a maternity or nursing bra.
So what are you waiting for…come and join the Mumba Bra revolution.
How to measure yourself for a nursing bra?
You'll need to determine two things – your rib band and cup size. Only two measurements!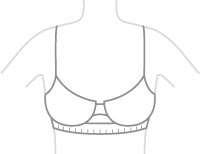 Step 1
Determine your band size (i.e. 32, 34, 36, 38, etc). To do this, measure yourself around by bringing the measuring tape around your rib cage underneath the bust line, making sure the tape measure is flat and straight across your back. Pull the tape nice and tight (remember that a bra will stretch, but a tape measure doesn't).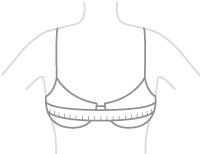 Step 2
Now find your cup size by measuring across the fullest part of your bust (this time the tape measure doesn't have to be tight). Measure your bust at its fullest part; make sure that the tape measure is even across the front and back and not twisted.
All you need to do now is to take away the rib band measurement from the cup size measurement. Each number or inch represents one letter. For example, if your rib band is 32 and your cup measurement is 34; 34-32 = 2, 2 equates to a B (1=A, 2=B, 3=C, 4=D, 5=DD(E), 6=DDD(F)…). You are a B cup. Your nursing bra size is a 32B.
Maya Seamless Bra Size Chart